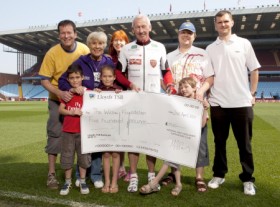 Members of the Arsenal West Midlands Supporters Club were at Villa Park on Thursday 21st April 2011 to present Arsenal goalkeeping legend Bob Wilson a cheque for £500.00 for his charity, the Willow Foundation. Bob and his wife Megs were very pleased to see a group of Arsenal shirts there to say hello and were extremely grateful for the donation. Big Ron (Atkinson) also showed up looking heavily tanned as usual!
Pictured with Bob and Megs are – Back (L-R) Giles Latcham, Liz Prowse, Matt Sears & Lee O'Brien. Front (L-R) Gus and Lily Latcham and Benji Sears.
Check out bobwilsonsoccercycle.com for Bobs daily blog – we get a mention somewhere!